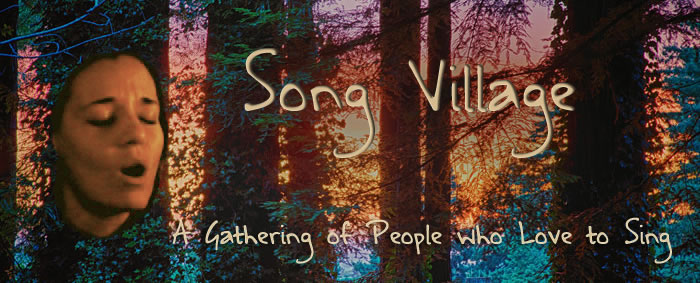 Song Village Information:
Camping:
Our site, Camp Loma, has plenty of room for your tent or van. There are bath-houses with flush toilets and warm showers. There are no cabins or beds. So come prepared with whatever you need to sleep comfortably. (See list below for suggestions). And FYI: There are no bears in the Santa Cruz mountains.
Clothing:
The weather will likely be wonderful in May. But since we will be outside the whole time, bring multiple layers of clothing so you can adjust to changing temperature. Late evening and early morning temperatures might be quite chilly. There will be a lot of shade from the redwoods, but there will be sunshine too, so bring sun protection. Bring shoes that are sturdy on forest paths, but are also easy to remove when you enter a shoes-off space (yes, we know that is a tricky combination).
Food:
Our caterers will provide meals from Thursday dinner to Sunday breakfast. There will be omnivore, vegetarian, and gluten-free options. You can bring any food you need for a special diet, though there may be limited fridge space. There will be coffee and tea available.
Personal Dishes:
Everyone will be responsible for bringing, washing and keeping track of their own plate, bowl, mug and utensils. Don't forget to bring your own!
Community Service:
All villagers will be asked to help by doing a community service shift. You can sign up for a shift when you check in. Many shifts involve help in the kitchen before or after meals. But we also need set-up and clean-up volunteers. So you can do you community service by arriving early or staying later to help. If you want to come early, please contact us to let us know you will be there.
Cell Phones:
There is no cell phone reception at the camp. If you need to check on something you can drive up the road a little way until you get reception.
Seating:
Each song circle site will have both seating on the ground and on lawn chairs. We need participants to bring as many lawn chairs as they can, so that there are enough in each location. When you arrive at camp, bring your lawn chair donations to each song circle site. Say goodbye to owning that lawn chair for the next few days, as all chairs will be public property during the event. Don't forget to pick up your lawn chairs at the end, when they revert back to your possession. We also encourage you to bring zafus or pillows for ground seating (on mats). These you can either leave at song circle sites for pubic use or carry with you.
Amplification:
There is none. No microphones, no electric instruments. Song village is about the natural sound of our voices together.
Recording:
Many people hear songs at a song circle that they really want to record so they can remember them after the gathering. You can record any song you want on your phone. Prepare by downloading a recording app before you arrive. Please remember, however, that our present moment experience of singing is our collective priority. So please do not let your desire for a good recording to impose on the freedom of others to enjoy themselves fully in the present.
Photography:
In order to help us stay in the present moment, we ask that there be no photography of the song circles. You can take pictures at Song Village, but not during the song circles. Please do not post any pictures you take at Song Village on the internet without full permission of everyone who is in the picture. Exception: There will be an official camp photographer who will discreetly take some pictures during song circles for use in Song Village promotion. We are happy to honor anyone's request to not have their photo published.
The Law of Two Feet
Everyone is free to move around as they wish at Song Village. If a particular song circle is not working for you, for whatever reason, you are encouraged to move to wherever you would rather be. Everyone benefits when all the people gathered are there by choice, rather than trapped by politeness. When you leave a song circle, please do not interrupt the group to announce your departure. Just slip away. Whoever remains will be the right people for that song circle at that time.
Performance
Song Circles are about participation, not performance. The goal of all facilitators is to foster satisfying singing experiences for all present. This does not mean that there is never a time when only one person is singing. Call and Response is a great way to teach a song. Sometimes individuals will carry the verse of a song, with the group joining on the chorus. But we do discourage people from attempting to showcase their own talent, tempting as that might be. That said, there is a fair amount of jamming outside of the official song circles, and the ethic of not performing is more relaxed there.
Leading Songs
All song circles will be facilitated in some way. Some song circles will have a leader who is providing the repertoire for the group. Other song circles will be "round robins" where any participant can offer to lead a song. If you volunteer to lead a song, please keep the following suggestions in mind:
     

Make sure you know the song well. It is amazing how many people try to lead a song that they LOVE, but can't actually remember. If you think of a song you don't know well, you can ask if anyone else knows it well enough to lead it for you or with you.

     

Make sure the song is easy to learn. Participants usually want to sing without spending a long time learning a song. Wordy songs are unlikely to be learned quickly. Song with complicated melodies can be tricky too.

     

Call and Response songs work well.

     

Zipper songs work well. Zipper songs have a single refrain in which only one word changes each time it's sung. (ie. She's got the whole world in her hands)

     

Rounds work well. Participants can stay with one part or learn all the parts, depending on the complexity of the song.

     

Layered Songs work well. A layered song is like "acoustic looping." Teach the group one part, and then add more parts on top of that, one at a time.

     

Improvisational Songs can work well. As with a layered song, start with one part and allow participants to improvise additional parts. Many structured songs can open up into improvisational jams.

     

Short verse songs work well (if the verses are truly short). Teach the chorus to the group and solo the verses with whoever knows them.

     

Chants can work well. Chants are repeated with the goal of dropping into a trace state. The words provide a mantra. Harmonies provide richness. Some song circles will have chant singing as a theme.

     

If you would like to lead a song (or more) at Song Village, try teaching it to a few friends prior to camp. Practicing leading it can help you figure out how to make it work smoothly in a song circle.
Singer-Songwriters
There will be singer-songwriter round robins for people to share original songs that are not easy to teach. Participation, in this case, involves each person taking a turn sharing their original creative work.
Acoustic Instruments
Drums, guitars, mandolins, violins, flutes, harmoniums, harmonicas and other acoustic instruments are welcome at Song Village. In song circles, we use them only enough to support the singing, and never to drown out the voices. All instrument playing at song circles is at the discretion and under the direction of the facilitator. But informal music jams with instruments are common and encouraged at Song Village.
What to Bring
Tent
Sleeping Pad
Sleeping Bag
Pillow
Warm Clothes
Sun hat
Sunscreen
Flashlight
Lawn Chairs (as many as you can) for group use
Floor pillows (as many as you can) for group or personal use
Cell phone/recording app
Plate/Bowl/Cup/Utensils
Special Diet foods (as needed)
Water bottle
Journal
Instruments
Songbooks
Tote Bag or Daypack
Your Open Heart
Arrival & Departure:
Arrive on Thursday any time after 2:00pm.
Work exchange people, please arrive no later than 11:00am.
Dinner on Thursday is 6:30. Singing starts after dinner.
If you are arriving on Friday, you can join us anytime. Please let us know in advance if you will arrive before lunch, so we have an accurate meal count.
Song Village will finish at noon on Sunday. Sunday lunch will not be served, except to those staying for work exchange clean-up.
Work exchange people, please plan to stay until camp clean-up is complete.